Film Oldies
Remember those film oldies! They were handsome and delightful men who were old in the best possible sense. They had gained age with humor, charm and a total lack of bitterness.
There was roly-poly Monty Woolley (the name fit) with his white woolly beard and prickly tweed suit. He was the Man Who Came to Dinner and he straightened out the lives of film characters gently, making them see their errors kindly with a twinkle in his eye.
Then there was square-jawed C. Aubrey Smith who was very British down to his skivvies. Harrumphing English aristocrat with a glint in his eye. But he was versatile; sometimes he showed up as a Scot. He represented the British Empire moral rectitude and kindness. There was nothing superior in the way the moral overtones were presented. He was great at helping to solve mysteries and generally provided the right kind of guiding.
The there was Lewis Stone, senior, figure of authority paternal friend to Greta Garbo and, of course, Judge Hardy, Andy's father. He was a bit more on the serious side, but you know when his name was on the billboard as a supporting player, the film he was in had to have class and was worth seeing. Like C. Aubrey, he exuded a very positive and unprejudiced form of moral rectitude.
Then there was Edmund Gwenn, the Scotsman. He was a kindly guiding angel. He was in a good mood and he often had a smile playing at the corners of his mouth. And that's Edmund guiding Roddy McDowell in Lassie Come Home and little Natalie Wood in Miracle on 34th St.
These handsome men were of course the epitome of the father or grandfather.
I was a kid when I saw them on screen. I knew that I would grow up, grow old and I knew what was at the end of the road. But I expected that in Hollywood films, children like Mickey Ronny and Judy Garland would continue to play kids, that the adult actors I liked like tough guy Alan Ladd and good old Bogey would continue to play adults. And I thought that oldies like Monty, C. Aubrey, Lewis and Edmund would continue to be around to round out the cast.
Hollywood is a place on the map of the world but "Hollywood" is also the world of fantasy.
Of course there came a time, when they could no longer be called upon to take on roles in films. That is one of the facts of life that became a reality to me.
But there is the consolation. They can still be seen in their consoling roles on the late late show.
The Art Theaters of Yore
I must have been born a film buff, and at an early age I developed into a foreign film buff.
In Princeton my haunts were the Garden Theater and the Princeton Playhouse. When we moved to Locust Valley the Cove Theater in Glen Cove filled the bill – but not quite. I wanted more than Hollywood.
I was pious in those days, but in spite of my religiosity, I used the Catholic Legion of Decency List of Condemned Films as a guide. This was the section of The Tablet that fascinated me. Since the films were condemned, I thought that there must be something to them. It was my list of films to see.
On trips to New York my mother would take me to the art theaters of yore to see the films that the Legion had banned – but not knowingly. She had no idea where I found out about the films and was pleased that her young son had such sophisticated tastes.
Most of the films were French, and I came to love the musical sound of the language. Those black-and-white masterpieces had some lascivious scenes, and here and there, the briefest flash of a female anatomy zipped across the screen.
I sensed then that these flashes were an integral part of art.
There may have been a flash now and then, but for the most part the condemnation came from a straitlaced rejection of frivolity.
Today, the Legion must be putting together lists ten miles long. Frivolity is a thing of the past; it has been replaced by downright baseness.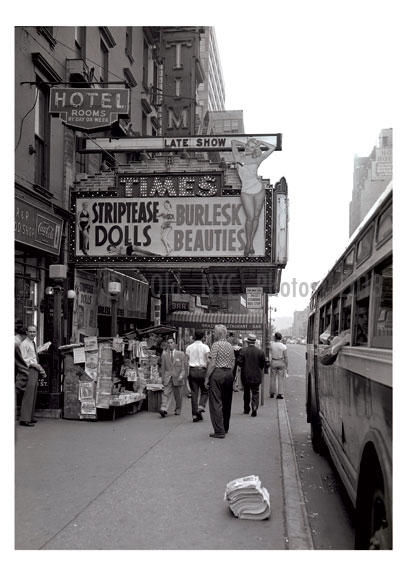 In those days, there were Theaters like the Times Theater on 42nd St with its double-feature bills with provocative titles like Bed and Broad and Bottoms Up, but as far as brass tacks were concerned, there wasn't even a flash. You were better off trying get a bit of nudity with your culture.
I continued to frequent "art" theaters long after reading the Legion list. The black-and-white foreign films of the time were as tasty as a French bread and vin ordinaire.
But with the advent of the Permissive Society and legalized pornography, everything changed. Somehow foreign films lost some of their appeal. Many of the "art" houses of yore were transformed into porno film theaters. You could get more than a glimpse in full color, and nothing, absolutely nothing, was left to the imagination.
Isn't that befitting? Art and nudity have always been associated with each another. Now nudity is filling the bill.
The art houses cum porno theaters have also gone the way of all flesh. Who needs a theater when you have DVDs?
Gangland Mother and Son
In Stephen Frear's masterpiece The Grifters, John Cusak aka Ray Dillon suffers internal injuries in a trick gone wrong. His mother, Anjelica Huston aka Lily Dillon resolutely gets him to a hospital and sees to it that he is treated.
Annette Benning aka Myra Langtry is Ray's girlfriend. She's a grifter too. Her rent is due, but instead of paying, she serves herself up to the greasy landlord and reads a magazine while he tops her.
Lilly has to scram and asks for her son's savings, which he has on the premises. When he refuses,
there's a scuffle during which Lily accidentally kills him. Sobbing, she takes the money and runs.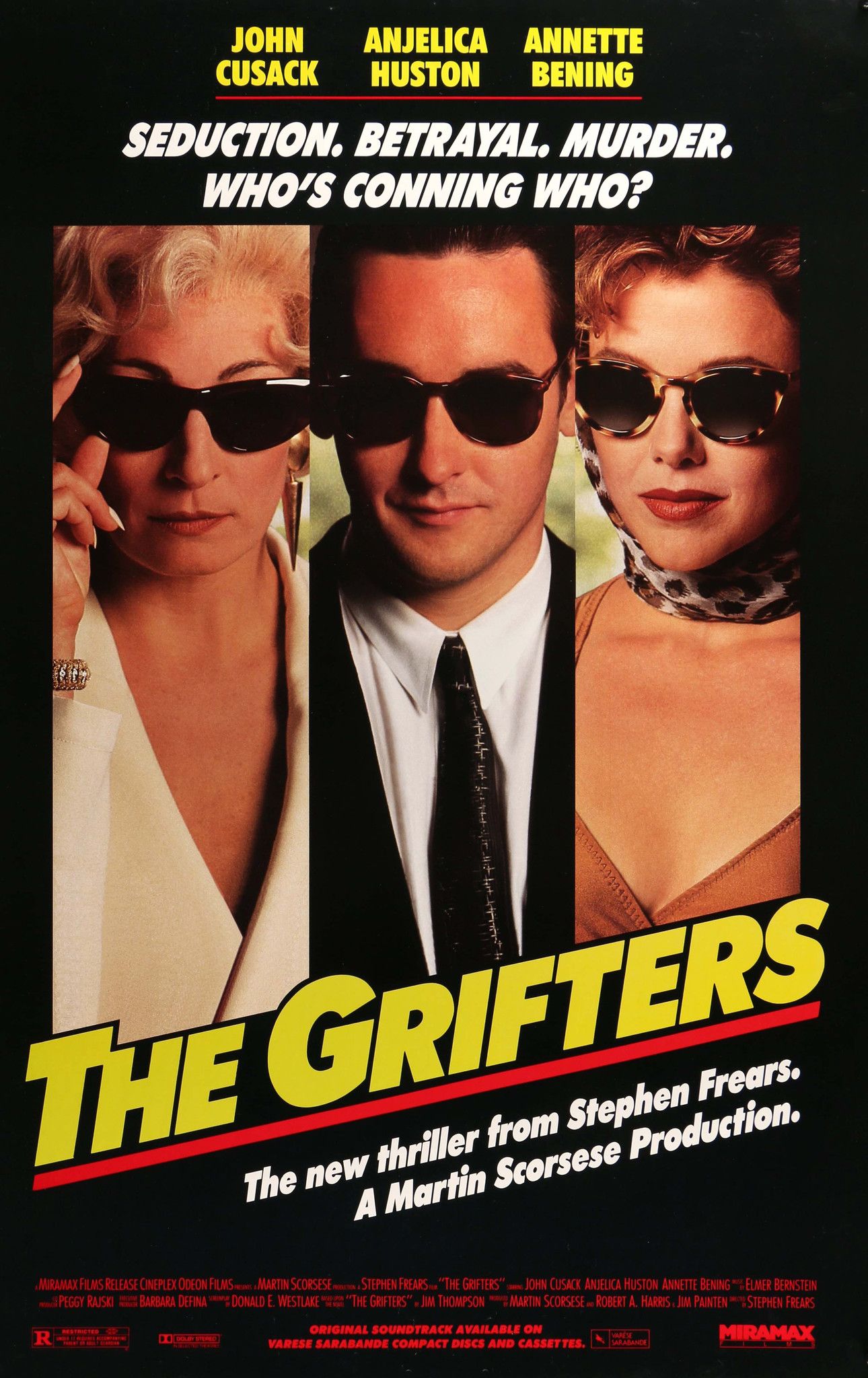 to be continued . . .
– Herbert Kuhner