Marilyn and a Guy Called Joe
When Laurence Olivier directed Marilyn in The Prince and the Showgirl, she and Paula Strasberg her "dramatic coach" made him wish he had never been born. And after completion of the film, Larry went away limping and clutching his crotch.
A quarter of a century later, he saw the film again and here's what he had to say: "I was as good as can be, and Marilyn! Marilyn was quite wonderful, the best of all."
A good film and good performances had come from all the suffering, and Larry the gentleman had given Marilyn her due. That's noblesse oblige!
Marilyn wasn't the first artist who couldn't deal with a career – or life, for that matter.
Yes, Marilyn often came late or simply stayed away. Those are diva airs, and there's no excuse for that. Punctuality is the most essential part of professional behavior. But it must be said that in her film compendium there is no bad acting.
She was singular.The film Marilyn was a vamp, but a vamp with a vulnerable quality. And that's a quality she had in real life.
There wasn't much noblesse oblige in Arthur Miller's After the Fall, which is the dramatic depiction of his marriage to Marilyn. It is the put-down of all put-downs of the female sex –nothing but venom. Never in the history of the stage has there been a heroine who was less of a heroine and none more negative than Maggie, the Marilyn character, with perhaps the exception of the Bard's Lady Macbeth.
Maggie has not one saving grace, nor any redeeming qualities – and not an iota of charm. No one can deny that charm was something that Marilyn had oodles of. Or was the charm she exuded only for celluloid purposes?
Billy Wilder put it this way: "Marilyn was mean. Terribly mean. The meanest woman I have ever met around this town," but Billy added: "or as utterly fabulous on the screen."
Well, Billy survived the film and Some Like It Hot became a comedy classic.
There's no denying that on a professional level Marilyn was hard to deal with. Larry, Billy and others have attested to that. But they all gave her her due.
But not Miller – nary a good word.
He married a vamp, but he wanted her to take on the attributes of the average homebody.
Actually she wanted that too. She had the best of intentions. She made such efforts for Arthur, even going as far as to convert to an anti-feminist religion.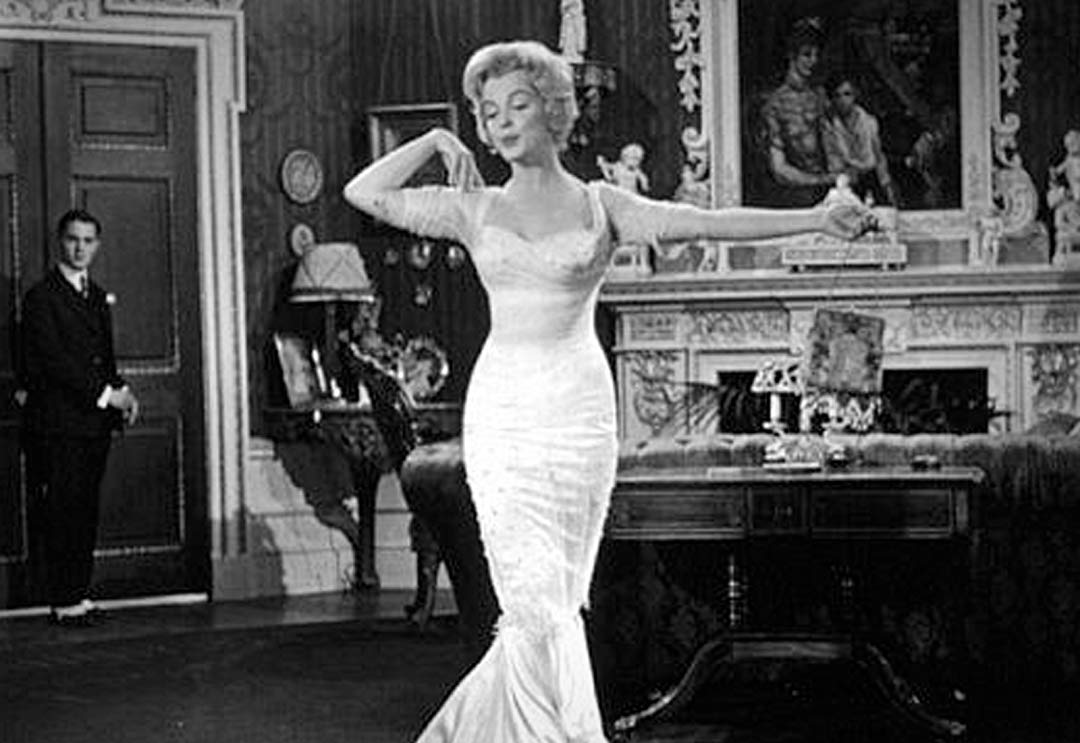 Maybe he thought that religion might help purge her. Anyway she must have really loved him to go through all that rigmarole.
Religion has always been an instrument for oppressing women. The linchpin of every faith is depicting sex as Satanic and the female as the magnet for attaining the Satanic clinch. And of course, there is the aspect of the female as a reproductive machine with no fun at all.
No doubt about it, the marriage must have been rocky. After the divorce, he moaned: "She was highly self-destructive. "All my energy and attention were devoted to trying to help her solve her problems. Unfortunately, I didn't have much success."
Isn't that a kind of stress and tell?
Joe DiMaggio, the husband prior to Miller, had a hard time living with the ghosts in her past and the nude calendar photos, and he couldn't bear the male world gawking at her. The subway air shaft and her billowing skirt for The Seven Year Itch drove him out of his mind. Joe was an old-fashioned guy, not suited to be the husband of a Hollywood sex symbol. But he was the one who loved her.
Times change! Today there's hardly an actress not shot in the nude – and some even in slam-bang action.
Marilyn was exhausted and checked in at Cornwall University Medical Center for to recuperate. She was forcibly transferred to the Payne Whitney Psychiatric Clinic and locked in a cell. After three days, when she was finally permitted to make a call, she called Joe.
He rushed to the clinic from Florida and appeared there the next day. At the reception desk he demanded, "I want my wife!" He placed his hands on the desk and said, "And if you do not release her to me, I will take this place apart, piece of wood by piece of wood."
Marilyn was released. It was six years after her divorce from DiMaggio.
No doubt about it, Marilyn was emotionally unstable, but that did not prevent the Kennedy brothers, Jack and Robert, from having a dalliance with her.
Did they compare notes?!
Excuse me from inserting an ethical note, but starting up with someone who has emotional problems is something you don't do, unless you've made up your mind to stick it out.
While filming Something's Got to Give with Dean Martin, Marilyn went AWOL to attend President Kennedy's birthday Party in Madison Square Garden on May 19, 1962. Her rendition of "Happy Birthday Mr. President" was a swan song.
Marilyn was fired and rehired for Something, but the film had to be scrapped due to her permanent unreliability. Marilyn died on August 5th.
After her death, she became the sex goddess of all time. There will never be another like her.
Joe DiMaggio claimed her body and planned her funeral. He excluded all those he deemed morally responsible for her death.
Husband number one, the policeman, and number three, the playwright did not attend.
Even if "three" was on DiMaggio's negative list, the ballplayer, who was a true gentleman, would not have tried to prevent him from attending.
Three did not pay his last respects. Can you imagine that?! At least he should have been there to thank her for inspiring a play.
For the next 20 years, Joe had a half a dozen red roses delivered to her crypt three times a week. His last words on this earth were, "I'll finally get to see Marilyn."
END

– Herbert Kuhner