-Speaking German in a Dream/2
am
3. Februar 2022
um
3:21
Speaking German in a Dream
(My subconscious cancels out courteous behavior.)
What Language Do You Dream in
I dream in English.
I daydream in French.
My nightmares are in German.
Of all the mishaps and misadventures I have experienced in my literary career, the following takes the cake.
On June 28, 1983, there was a presentation of Hawks and Nightingales: Current Burgenland Croatian Poetry at the Croatian Academic Club. Dr. Albert F. Reiterer, then Editor-in-Chief of Braumüller Verlag composed a three-page invitation for the occasion on which the names of neither the editor nor translator were to be found. When queried about the omission, Dr. Reiterer stated that it was intentional and that it was not the publisher's policy to give such credit.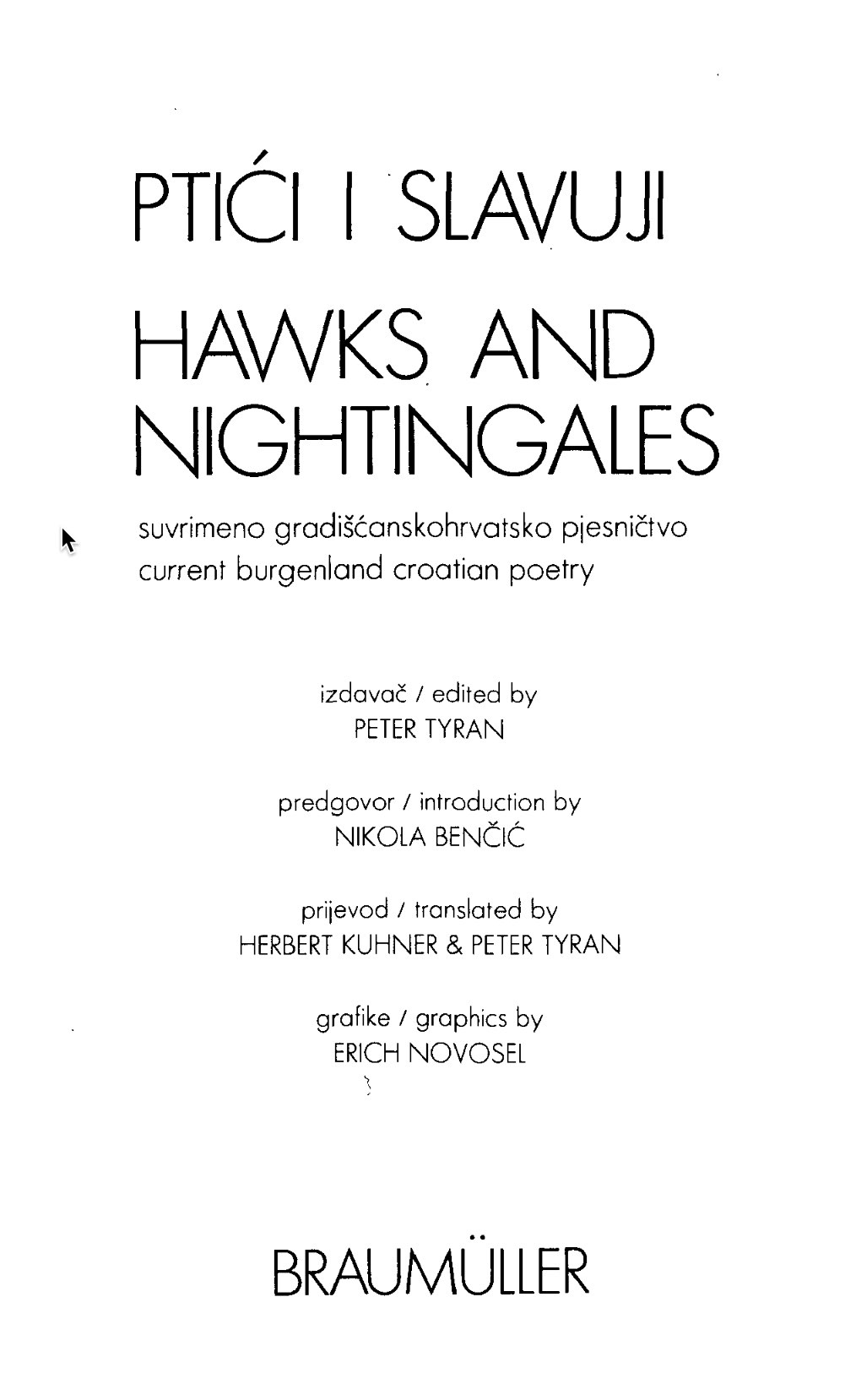 On November 10, 1983, a presentation of Hawks and Nightingales was slated to take place at the America House, for which I had acted as an intermediary. Presentations of Carinthian Slovenian Poetry and Austrian Poetry Today (Schoken Books) were to follow. And a reading tour featuring poetry from all three anthologies was planned.
However, on November 9th, a day before the presentation, Cynthia Miller, the United States Cultural Attaché received a letter from Dr. Reiterer withdrawing from the presentation. Dr. Reiterer wrote: "I would like to convey to you, that due to recent events, our publishing house will not be able to send a representative to the reading that you have planned."
(The "recent events" were allegedly the invasion of Grenada.)
The buffet was delivered and set aside. The guests were sent home and all other events were cancelled. That was the end of my relationship with the America House. I may not have been to blame for what had happened, but I had made the unfortunate connection with the publisher. Anti-Climax insert that if it hadn't been for the participation of the United States in World War II, the Third Reich would still dominate Europe.
When I called Dr. Reiterer, he informed me that he had achieved his intentions. That was the end of my relationship with the America House. I may have not been to blame for what had happened, but I had made the connection with the man who had caused the cancellation.
After our brief phone conversation, I received a bill for complimentary copies of "Hawkes and Nightingales" dated November 23.1983, which I had distributed for publicity and funding purposes. I quote, "Regretfully we cannot agree to having the book presented to people such as Peter Rath, who is the owner of a glass and chandelier company that has absolutely no connection with our publishing house." Peter Rath of Lobmeyr happened to be one of the sponsors of Austrian Poetry Today and received credit for his generosity in that publication.
It could not be said that my fellow editors twiddled their thumbs during this confrontation since they sat on their hands.
On December 20, 1983, I received a letter from Dr. Reiterer informing me that Herbert Gassner of the Croatian Academic Club had purchased 50 copies of Hawks and Nightingales on condition that Dr. Reiterer desist from harassing me with bills for complementary copies.
I quote Reiterer: "We regret that an uninvolved third party has entered this situation." In other words, harassing me with bills was more essential to him than selling copies of the book.
A Perpetrator Speaks
"Always remember, others may hate you,
but those who hate you don't win
unless you hate them,
and then you destroy yourself."
– Richard M. Nixon
(Wise words from a man I do not admire.)
Semi-Climax
Not too long ago, I had a dream. I was attending a symposium at a university. As I was walking on the campus, I saw the publisher in question. I approached him and threw German expletive at him. (The word is Drecksau.) Apparently, there is no English word to match it.
That's the complete dream. I cannot remember ever previously having spoken German in a dream since I left "Ostmark" in 1939. At that time you didn't have to have nightmares.
My next location was London, where I started to learn English.
(If you have the bad luck of being saddled with good manners, you sometimes have to rely on your subconscious for accuracy.)
Was and Is
This is how it was
and this is how it is.
Apparently, my subconscious self
broke through my customary cordiality.
I am amazed at the shadow and echo of an era,
that evades being history.
– Herbert Kuhner