-Ebner and Intermediaries
am
9. November 2020
um
18:05
"Past" Events
A German Translation (pdf-file) is available here:Ebner und die Vermittler
I found this account of past Events among my papers, which I am going through for Boston University Library, where my work is collected.
Protocol concerning Translators of poetry by Jeannie Ebner:
On Dec. 2, 1986 I met Vijay Chadha, editor of Mosaic (an Indian literary review). He told me that Jeannie Ebner made the following statements:


"Herbert Kuhner is not Austrian. He can neither write in English nor German. He speaks English with a dreadful slang."

Chadha gave me copies of an issue of Mosaic. Jeannie Ebner is represented with a short story translated by Donald Daviau and a poem translated by Beth Bjorklund. Ebner denigrated both of these translations. She is also represented by four poems which are labeled: Translated by the author." Chadha told me that these poems were in reality translated by Elaine Boney. However, Ebner made slight changes and insisted on being credited with the translations. Chadha said he will provide me with the Boney translations.

I had requested poems from Jeannie Ebner for translated translation for a collection of poetry.

Frau Ebner gave me poems, and I translated one of them. I send it to her. She revised the translation, rendering it unpublishable and wanted to be credited as co-translator.
The English and American colleagues I contacted agreed with my assessment. (Considering Vijay's Chadha's, information, I seem to be in good company.)
A Salad of Malignancies
"Unfortunately, the fact that that you are American
and not Austrian or East European
seems to be an insurmountable obstacle
as far as Jeannie Ebner is concerned.
My assertion that you were born in Vienna
and are a resident of Vienna
can change nothing."
– Letter from Andreas Okopenko, Feb. 22, 1969
"The Commission's decisions are bound to guidelines
and it rejects your request,
since according to your own information,
you are an American citizen."
– Jeannie Ebner, Letter, July 8, 1993
"If you call him an American, he's offended.
If you call him an Austrian, he's offended.
American or Austrian, he'll always be a Jew!" (1)
– Jeannie Ebner, author and editor
(I was on the first Board of Podium magazine.
Herr Vogel forced my departure by his insults.
I had been brought to the journal by Wilhelm Szabo.
After I had translated all Board members,
including Herr Vogel, I mentioned that I was
the only member who had not participated in a reading
or had work published in the journal,
Herr Vogel replied: "Shut your mouth!
You are a mediocre author. You can all kiss my ass!
So, that was it. My stint with Podium came to,
and I had to move on .
I've been stomped on for years, and now I'm doing the stomping…. (2)
Kuhner thinks that he is not accepted as an author because he is a Jew. The truth is that he is an inferior author. (3)
– Alois Vogel, author, editor and fellow Board Member
Soon afterward, I was invited to read at the Dominican Church Cultural Center with Margarethe Herzele, whose bilingual Carinthian Love Songs was in preparation. Herr Vogel wrote the organizer, the artist Wolfgang Bergner, that if he did not remove me from them program,he (Vogel) would see to it that his work would blocked.
It is impertinent of him (Kuhner) to call me an anti-Semite. I am that by no means." (4)
– Alois Vogel, author and editor
(I never referred to Herrn Vogel as an anti-Semite in my conversations or in my writing.
– H.K.)
Quotes by Austrian Luminaries and Notables
The Co-Editor Bites the Dust
He's good on details concerning the barbarism of the past. If you're a poet who writes on the subject, he's the one to go to since he edits a poetry series. He had a co-editor, who belonged to an older generation. His former colleague, a refined and cultivated older poet, did not have a particularly sanguine life. As a young man, he was inducted and spent six years of his youth wearing a uniform he hated. He was one of those who had to go while Waldheim and others fulfilled their martial duty in the Wehrmacht, which by no means could have been considered the defence force of Austria.
When the older colleague supported the publication of volumes of poetry by two émigrés who had experienced the Third Reich and its repercussions first-hand, he was shouted down and forced to pack it in by his younger colleague. And that was that! This of course is an isolated incident and is atypical. Anti-fascists and philo-Semites in Austria are invariably ready to lend a helping hand to those who were victimized by the Reich.
Players: Manfred Chobot, Franz Richter.
Authors: Wolfgang Fischer, Herbert Kuhner
"It was unwise of you to review Kuhner's book."
– Bodo Hell, author to Lev Detela, who had reviewed Broadsides & Pratfalls for Ex Libris, ORF (Austrian Radio)
"Why did you tell him?"
– Bodo Hell
Decades ago, when I was editing Integration and Impulse, he came to my apartment announced with manuscripts. I published his texts in every issue.
During this time, Menard Press in London published my Broadsides & Pratfalls and discussed them on the ORF program Ex Libris. The winner then called the reviewer and told him that it was "unwise" to review my book. This told me. I called the award winner again, but he denied saying such a thing and asked me if I suspect anyone of making such comments. Then he called the reviewer and asked why he had told me.
Herbert Kuhner is insignificant as an author and he will never read on our premises."  [5]
– Dr. Reinhard Urbach, Austrian Literary Society
Herbert Kuhner is a less than mediocre author who would never be able to represent Austria in any way."
Report by Dr. Wolfgang Kraus, Austrian Literary Society & Austrian Foreign Ministry
Another View: "The list of Austrian poets that Herbert Kuhner has rendered reads like Who's Who in Austrian Poetry.
– Harry Zohn, Modern Austrian Poetry Journal, Riverside, CA
Welcome back, Harry! And thank you for your translations of Austrian Poets!
– "Nobody"
Popp Goes the Wiesel
"Herbert Kuhner does not qualify for a writers' pension. The list of his publications would not even fill one page."
– Magister Franz-Leo Popp, Director of the Commission for Pensions for Writers at the meeting of the Board on June 19, 1995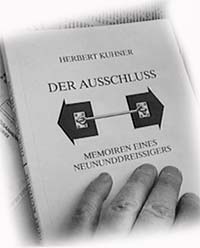 The Epilogue
On March 19, 1990, Herr Rainer Lendl of Edition Atelier wrote to his distributor, "We hereby cancel Herbert Kuhner's Der Ausschluss from our publishing program. All copies are to be returned to the author."
Wolfgang Schüssel, Bundespräsident: "Lendl's merits include the rediscovery of Austrian exile authors.  [6]
Yeah! Thanks a lot, Rainer old boy! (Edition Atelier was a subsidiary of Erhard Busek's Wiener Journal.)
Thus, I had been provided with a fitting epilogue for my book.
Associates
Otto Schulmeister, 1989: "There were many swine at the time, not only brown ones…" And he added, "The Revisionists are right about that. Not only Nazis committed crimes. And not only Jews were victims. There were many victims at the time and many since then. And as we see in Israel, Jews can also be oppressors." Asked whether he regretted what he had written during the Third Reich in National Socialist organs, he replied: "Not in the least!"
Msgr. Otto Mauer, the official "Catholic Caretaker of Souls" Mauer in 1948, three years after the Holocaust: (Online Die Jüdische)
"The Jews have immense influence on communism and capitalism.
They pass themselves off as defenders of humanity…
but they are nothing but a depraved people with a perverted spirit….
They have been condemned to eternal damnation….They invariably choose
the evil path."  [7]
Uninvited
I would like to add that although I experienced a Storm Trooper raid
in early years, and my family was decimated in the Shoah,
I am not invited to participate in official commemorative events.
I am not even invited to attend.
Erasing It
I cannot extract myself from the past.
During the Third Reich,
we lost everything,
including human life.
Since then,
there have been no amends –
only more of the same
on a spiritual level.
I tried to erase it.
I did not want to have the identity
of being a victim,
but of course it could not be erased.
It is unbearable,
but it has to be borne
so that the follow-up
can be related.
For years,
in order to keep going,
I had tried to bar thoughts
of specific situations of the past
from my mind.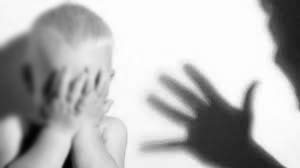 The other day, when I saw the image
my Aunt Leni and my uncles Fritz and Heinrich
in a packed boxcar, I broke down and wept.
My cousin Karen Sanders (kisanders@sbcglobal.net)
is presently researching the fate of our family members.
– Herbert Kuhner
[1]  Source: Adolf Opel
[2]  Source: Gunther Kraus
[3]  Source: Johannes Diethart
[4]  Source: Johannes Diethart
[5]  Source: Leo Mazakarini, 1973.
[6]  Wolfgang Schüssel, Österreichischer Bundeskanzler: Jerusalem Post, Nov. 9, 2000; Wolfgang Schüssel, Wiener Zeitung, Nov.      10/11, 2000; Wolfgang Schüssel, Neue Züricher Zeitung, Feb. 15, 2005.
[7]  Hugo Löwy: "Warum Haß?" Renaissance, No. 10, May, 1948, p. 10: quoted from a lecture by Otto Mauer on April 10, 1948 at the Volkshochschule Alsergrund for the "Circle for Christian and Jewish Problems"; also referred to in No. 18, Jan. 1949; researched by Dr. Evelyn Adunka.