The Cranes Are Flying
The romance of Veronica and Boris is interrupted by the war. He is inducted.
Veronica runs to the station, but his train leaves before they can say goodbye to each other.
Boris carries a wounded comrade on his back through a marsh. A shot rings out. Boris stiffens and lets go of the man he is carrying.
We see Boris bounding up stairs in tattered uniform. He comes to a door and opens it. A wedding is taking place. He finds himself joyously marrying Veronica. He is elegantly dressed. Veronica is at his side. She smiles radiantly. Boris is both groom and spectator.
We see the wounded comrade looking up at Boris. Now he is in mortal danger, since Boris cannot continue to carry him to safety.
Boris has been allowed to see Veronica once more, if only in his imagination.
Boris buckles and falls to the ground.
Boris and Veronica will never see each other on this earth again,
The cranes are flying.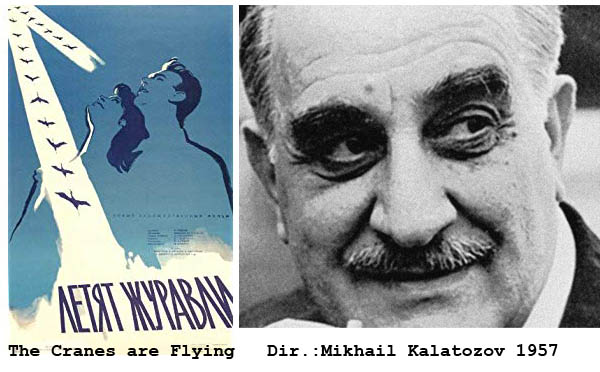 Sophie's Choice
When you live in a brutal dictatorship, you have to play along in one way or another to stay alive.
In Sophie's Choice, Sophie finds herself in a death camp with her two children, a young son and a younger daughter. When a sadistic SS-officer gives her the choice of staying alive with one child, she gives him the daughter, since she has less chance of surviving than the older child. That is logical. However, a less practical decision would be to tell her tormentor that he should take all three. The reason being, that she does want to live in a world in which one is forced to make such decisions, and she does not want her children to grow up in such a world.
Sophie survives but her son does not. Her tragedy has made her madly passionate. She goes to the United States, where she meets William Styron's alter ego and takes up with him. Thus, her story is put to paper. However, she finds herself torn between him and another lover and commits suicide with the latter.
Finis!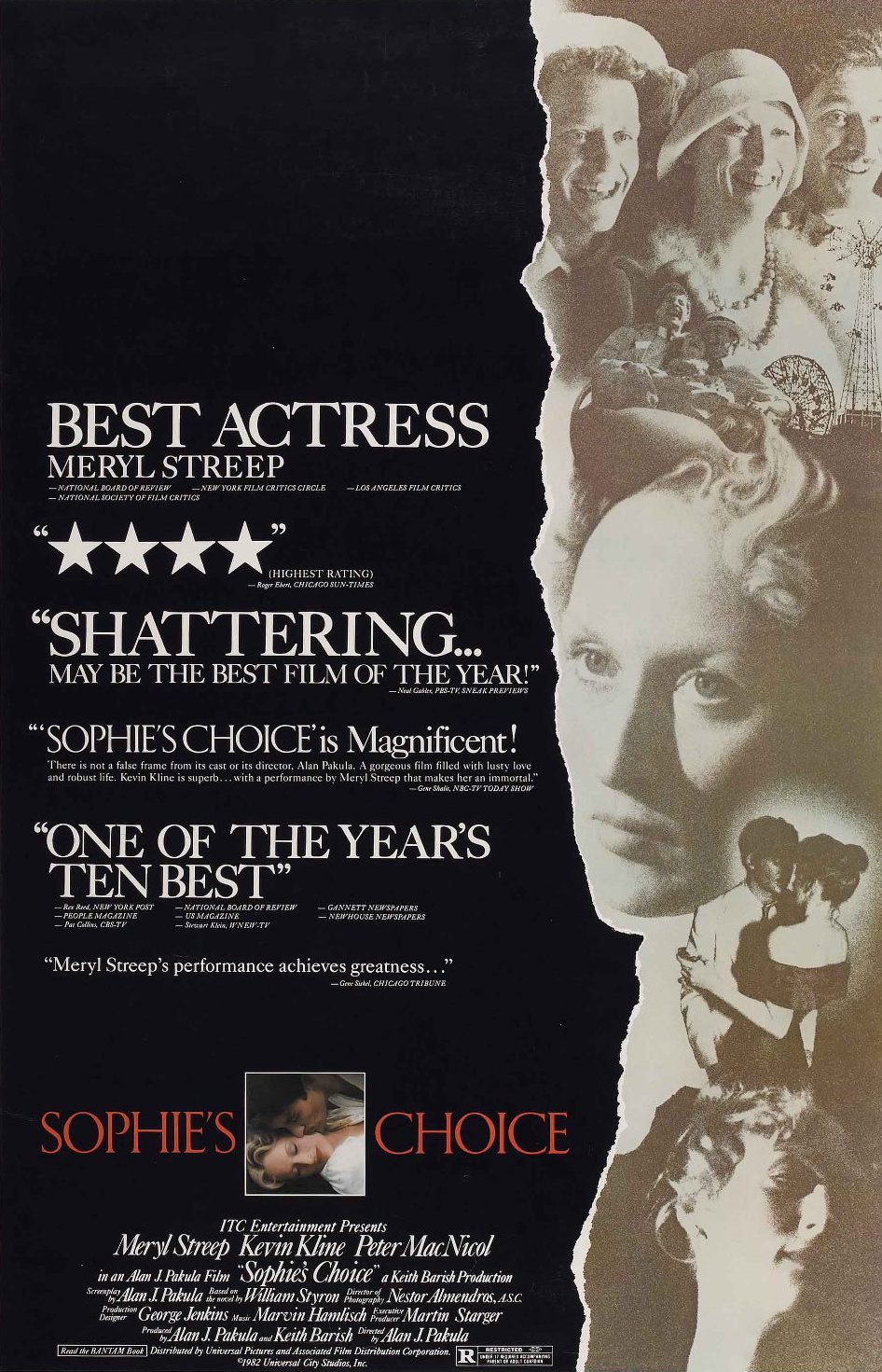 Tasty Tidbits of the Cinema
Peter Strauss is a star of made for TV films. He also appears as a supporting actor in regular feature films. He provides for involuntary humor in the 1993 made-for-T film, Men Don't Tell – by the way, what a terrific title! Peter is, of all things, a battered husband. Judith Light plays his violent spouse,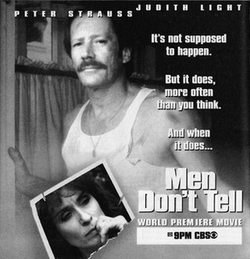 and there's nothing "light" in the way that she clobbers poor old Pete. In despair, he calls a women's shelter, and as he starts to tell about the abuse he has been taking, the women who takes the call slams the receiver down.
Sad-sack Woody Allen plays a schlemiel-bookie in the 1976, The Front. When McCarthy ruins the careers of his leftie writer-friends, they use him to front to publish their work. Woody is at a bar in the Catskills, and a couple of high-life girls ask him what he does. He proudly says: "I'm a writer." Without a word they abscond. That's an inside joke for writers.
In the 1962, Slumming in Paris, Jean Gabin play a down at the heels race track shyster, who's known better days. Gabin puts on the Ritz to woo Madeleine Renaud, an old flame. The sleeves of his old shirt are frayed. With an expression of concentration, his thin mouth buttoned up, he goes about cutting the thread wit a pair of scissors.
In the 1952 Carrie, based on the Theodore Dreiser novel, Larry Olivier is manager of a fancy restaurant in Chicago. He falls for young Jennifer Jones and true love brings him down. In the pursuit of Jennifer, Larry loses his job and his family, in that order.
He goes downhill and on the way down, he works as a waiter in low-class eatery. He serves beer to a couple of typical customers. He places the mugs on the table elegantly turning the handles toward them. As he does so, they both give him a fishy look.
Seedy, sleazy Ray Teal lived in No-Man's-Land between a supporting actor and a bit player. You may not know the name, but you've seen him as corrupt sheriff, small-time-gangster,
disheveled drunk in the films of the Forties, Fifties and Sixties. Ray was generally up to no good. In Carrie, he plays a civil officer. Ray accosts Larry in a hotel. He extends his hand, as if reaching for Larry's. As Larry 's hand goes toward his, he places a subpoena in it. Great directing by William Wyler, who was Larry's film mentor. And great acting by Larry and Ray.
It's the nice touches and details that stay in your mind. They certainly stayed in mine.
to be continued . . .
– Herbert Kuhner