The Horses of Stagecoach
Stagecoach is the classic western based the de Maupassant story, Boule de suif, which is the classic doxy story.
The great Indian chase of the hurtling stagecoach is the most classic scene of this classic film.
The Indians try to pick of the stagecoach driver, his companion rifleman and the passengers in the coach.
The question has always been asked: why don't the Indians just shoot the horses pulling the stagecoach? The Indians have burned down ranches in the area and done settlers in, but they have a good side: they love horses. They are certainly more humane than the stuntmen riding those poor beasts, who cause them to falter and fall at full speed.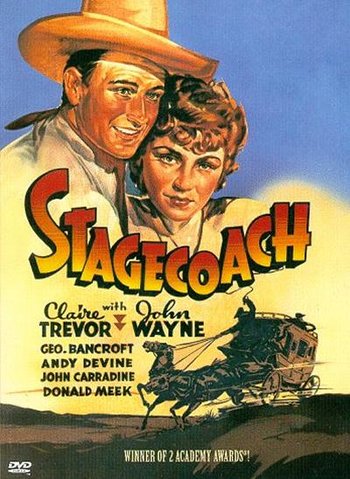 Second Fiddles
There were a handful of stars in the Thirties and Forties who were not quite stars in their own right. They were stars who could not carry a film on their own. Their names usually appeared under the name of a top woman star. It seems that second billing was their fate. George Brent, Zachary Scott, Macdonald Carey, Paul Henried, Turhan Bey and Walter Pidgeon were the second fiddles to stars like Bette Davis Joan Crawford. Although these women could carry a film, they could not have been considered to be beautiful. They were the type of women that the woman on the street could identify with. "Woman on the street" is not a good expression for the middle class ladies who frequented dark palatial theaters with hankies at the ready. Woman in the kitchen or woman in the living room would be more suited. Woman in the bedroom would be all-wrong. They needed stars like Bette and Joan to identify with. And it was marvelous for these filmgoers to view women who had made it to the top who were not exquisite beauties. These ordinary-looking stars needed handsome foils, and the male stars who supported them filled the bill.
Bette Davis had a froggy look, but like many plain women who have charisma, she could, at times, make herself seem attractive. Both Bette and Joan were tough cookies, on and off screen. Joan like Bette, was anything but a beauty. She was mostly photographed face-on in her publicity shots. Like her rival Bette, her eyes were a bit too big, and they were neither luminous nor humorous. Her face, however, was perfectly symmetrical, and the photographers who photographed her brought the quality to the fore.
Bette and Joan were rivals in real life. Robert Aldrich used that reality for his fiction in Whatever Happened to Baby Jane. In that film the two didn't have to act. As hating oldies, they go for each other's throats with verve and gusto.
George is the doctor who consoles the moribund Bette in Dark Victory, and he's there with of ornate the empathy and platitudes, as she exits and hankies galore emerge from handbags in the darkened ornate temples.
Zachary is the all-right guy who waits for mercenary and venal Joan to soften up and come around in Mildred Pierce. Mildred changes her ways and Zachary scoops her up in his arms before the fade out.
In Let's Make It Legal, Macdonald forgets marital intentions toward Claudette Colbert when Marilyn Monroe flutters her eyelids and mesmerizes him with the rippling of her delicious bottom. But as Hollywood would have it, Claudette flutters her saucer eyes and turns on the charm, which she had plenty of and achieves the impossible. She manages to win MacDonald back. He, who was not made of clay, pops the question, while continuing to view Marilyn's curvaceous masterpiece out of the corner of his eye. Being the good Hollywood soldier that he was, he ties the knot with Claudette, a fate on or off screen that one can only envy him for. But while doing so, he steals a last glance at the curvaceous tuberosties that served as the mainspring of ninety minutes of frothy entertainment.
Paul, with his Viennese charm, his aesthetic facial scar and elegant white suite does get Ingrid Bergman in Casablanca, but cynical, tough-guy Bogey wins her heart. Paul was the dashing star of The Spanish Main, an exciting pirate film as well as a couple of others, but his stardom was nipped in the bud by the Senator from Wisconsin, the good old commie chaser, Joe McCarthy. When Paul was able to film again he was too old to pick up where he had left off as a Lothario.
Turhan was another suave supporting star. Like Paul, he came from the best breeding ground for elegant Lotharios, namely Vienna. His genre was the Arabian Nights and he had a gorgeous star to support. Turhan and Jon Hall defended and fought amongst themselves to win the lovely Maria Montez in the East, where there were turbans galore. When Johnny came marching home, that is when the male stars returned from Europe and Japan to Hollywood, the Arabian series came to an end and roles became scarce for Turhan. He then threw in the turban, and then headed back home to Vienna.
Walter Pigeon was the stodgy fuddy-duddy who was hubby to Greer Garson as Madame Curie and Mrs. Miniver. He gave his "Madame" the moral support she needed to research radium and his "Mrs." to persevere in wartime London.
After the Forties second fiddles went out of fashion. For some reason, which I can't put my finger on, unbeautiful female stars now carry films on their own. Apparently they no longer need the support of a handsome foil. Now they do their thing without the second-string star who supports them and takes second billing.
The Egghead as Heavy
Film villains who played gangsters could make it big like Cagney, Bogey and Edward G. Ditto for villains who played monsters like Lon Chaney and Boris Karloff. Then there was the Erich von Stroheim who was the man you loved to hate. After his career as a director went on the skids, with a little help from himself, the war came as a windfall. He cashed in on propaganda films, along with the newly-arrived emigrés, since Europeans with nasty accents were needed to play Nazi officers.
The suave upper-crust scion who had a cultural background was the man you couldn't trust. He invariably had bad intentions, was corrupt to the core, and was the most elegant of villains. The actor who played the role had to resign himself to a rating of supporting player. That was the fate of John Sutton, foil of Tyrone Power in Captain from Castile. Louis Calhern, a boulvardier from Brooklyn, was the big boss and Marilyn Monroe's sugar daddy in The Asphalt Jungle. John Emery, with his haughty mien and velvety nasal voice, was the heavy having it off with Alan Ladd's wife in The Blue Dahlia. Another Emery facet was playing turncoat pals, a role that he played to the hilt in The Spanish Main, opposite Paul Henreid. George Macready, was a master in hauteur, who even lent class to his facial scar. He was slinky as Rita Hayworth's husband in Gilda, and of course, was fated to be bested by Glenn Ford. Henry Wilcoxon, whose name sounds like a jockstrap, was the square with the powdered wig in The Last of the Mohicans. God was he a prig! He just had to be edged out by Randolph Scott. The jocks were, however, the heroes who eventually got the better of these heavies. They were regular guys like Glenn Ford, William Holden and John Payne who showed that good intentions went with a simple homespun American background. Let's admit it, eggheads are suspicious and the egghead quality doesn't sell. When an egghead shows up, he's up to no good and has to be bested by a non-egghead. In the films of the past, there were paltry rewards for those eggheads who played the eggheads.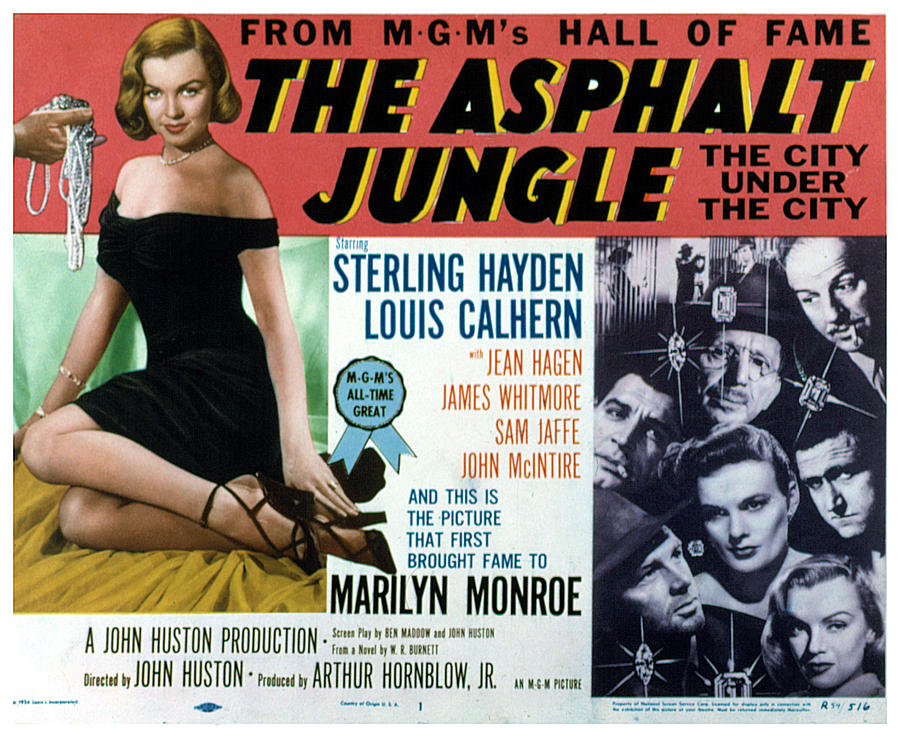 to be continued . . .
– Herbert Kuhner