-Saul Bellow & Arthur Miller
Marilyn and a Guy Called Joe
When Laurence Olivier directed Marilyn in The Prince and the Showgirl, she and Paula Strasberg her "dramatic coach" made him wish he had never been born. And after completion of the film, Larry went away limping and clutching his crotch.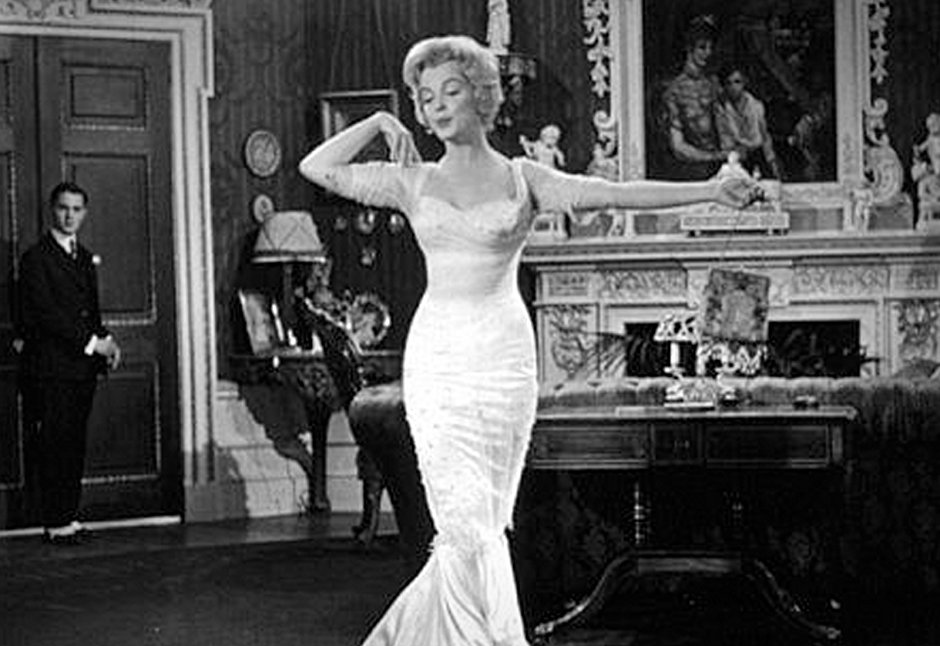 A quarter of a century later, he saw the film again and here's what he had to say: "I was as good as can be, and Marilyn! Marilyn was quite wonderful, the best of all."
A good film and good performances had come from all the suffering, and Larry the gentleman had given Marilyn her due. That's noblesse oblige!
Marilyn wasn't the first artist who couldn't deal with a career – or life, for that matter.
Yes, Marilyn often came late or simply stayed away. Those are diva airs, and there's no excuse for that. Punctuality is the most essential part of professional behavior. But it must be said that in her film compendium there is no bad acting.
She was singular.The film Marilyn was a vamp, but a vamp with a vulnerable quality. And that's a quality she had in real life.
There wasn't much noblesse oblige in Arthur Miller's After the Fall, which is the dramatic depiction of his marriage to Marilyn. It is the put-down of all put-downs of the female sex –nothing but venom. Never in the history of the stage has there been a heroine who was less of a heroine and none more negative than Maggie, the Marilyn character, with perhaps the exception of the Bard's Lady Macbeth.
Maggie has not one saving grace, nor any redeeming qualities – and not an iota of charm. No one can deny that charm was something that Marilyn had oodles of. Or was the charm she exuded only for celluloid purposes?
Billy Wilder put it this way: "Marilyn was mean. Terribly mean. The meanest woman I have ever met around this town," but Billy added: "or as utterly fabulous on the screen."
Well, Billy survived the film and Some Like It Hot became a comedy classic.
There's no denying that on a professional level Marilyn was hard to deal with. Larry, Billy and others have attested to that. But they all gave her her due.
But not Miller – nary a good word.
He married a vamp, but he wanted her to take on the attributes of the average homebody.
Actually she wanted that too. She had the best of intentions. She made such efforts for Arthur, even going as far as to convert to an anti-feminist religion.
Maybe he thought that religion might help purge her. Anyway she must have really loved him to go through all that rigmarole.
Religion has always been an instrument for oppressing women. The linchpin of every faith is depicting sex as Satanic and the female as the magnet for attaining the Satanic clinch. And of course, there is the aspect of the female as a reproductive machine with no fun at all.
No doubt about it, the marriage must have been rocky. After the divorce, he moaned: "She was highly self-destructive. "All my energy and attention were devoted to trying to help her solve her problems. Unfortunately, I didn't have much success."
Isn't that a kind of stress and tell?
Joe DiMaggio, the husband prior to Miller, had a hard time living with the ghosts in her past and the nude calendar photos, and he couldn't bear the male world gawking at her. The subway air shaft and her billowing skirt for The Seven Year Itch drove him out of his mind. Joe was an old-fashioned guy, not suited to be the husband of a Hollywood sex symbol. But he was the one who loved her.
Times change! Today there's hardly an actress not shot in the nude – and some even in slam-bang action.
Marilyn was exhausted and checked in at Cornwall University Medical Center for to recuperate. She was forcibly transferred to the Payne Whitney Psychiatric Clinic and locked in a cell. After three days, when she was finally permitted to make a call, she called Joe.
He rushed to the clinic from Florida and appeared there the next day. At the reception desk he demanded, "I want my wife!" He placed his hands on the desk and said, "And if you do not release her to me, I will take this place apart, piece of wood by piece of wood."
Marilyn was released. It was six years after her divorce from DiMaggio.
No doubt about it, Marilyn was emotionally unstable, but that did not prevent the Kennedy brothers, Jack and Robert, from having a dalliance with her.
Did they compare notes?!
Excuse me from inserting an ethical note, but starting up with someone who has emotional problems is something you don't do, unless you've made up your mind to stick it out.
While filming Something's Got to Give with Dean Martin, Marilyn went AWOL to attend President Kennedy's birthday Party in Madison Square Garden on May 19, 1962. Her rendition of "Happy Birthday Mr. President" was a swan song.
Marilyn was fired and rehired for Something, but the film had to be scrapped due to her permanent unreliability. Marilyn died on August 5th.
After her death, she became the sex goddess of all time. There will never be another like her.
Joe DiMaggio claimed her body and planned her funeral. He excluded all those he deemed morally responsible for her death.
Husband number one, the policeman, and number three, the playwright did not attend.
Even if "three" was on DiMaggio's negative list, the ballplayer, who was a true gentleman, would not have tried to prevent him from attending.
Three did not pay his last respects. Can you imagine that?! At least he should have been there to thank her for inspiring a play.
For the next 20 years, Joe had a half a dozen red roses delivered to her crypt three times a week. His last words on this earth were, "I'll finally get to see Marilyn."
Arthur Miller Sheds Marilyn
After the Fall by Arthur Miller is the most one-sided,
negative portrait of a woman in the history of drama –
perhaps with the exception of the Bard's Lady Macbeth.
Marilyn must have had some saving graces.
or was the charm she exuded
only for celluloid purposes?
She made such efforts for Arthur,
even going as far as to convert
to an anti-feminist religion.
Marilyn was not the most well-adjusted of women.
Outside of the boudoir,
she started to get on his nerves.
And after writing a film for her,
in which she excels
he shed her without much ado.
At the time of her death
the play must have been
in gestation.
Imagine, he didn't even
attend her funeral.
At least he should have paid
his last respects for
the negative inspiration.
Larry, Marilyn, Vivien and Noblesse Oblige
He could speak Shakespeare's lines as naturally as if he were actually thinking them.
– Charles Bennett, English playwright
Larry was the greatest of them all – and the most handsome. He was the prince and his princess was Vivien. She wasn't bad at acting, and she was the most beautiful of them all.
Laurence Olivier directed and acted in The Prince and the Showgirl in 1957, co-starring Marilyn Monroe, who was also beautiful in a ditsy way. She was the epitome of showgirls, starlets, pinups and party girls. It is not the elegant beauty of Vivien Leigh, but it was a kind of beauty too. Actually it was the kind of beauty that was more in demand. There was nothing subtle about it. The appeal was immediate. There was no aura to it, and it did not increase with observation. I wouldn't use the word superficial, but I would say that it was anything but classic.
Marilyn had a reputation for showing up late and for being difficult to work with. Here's how other directors put it. The words are Larry's: "Billy Wilder said that it had been like working with Hitler. He and Josh Logan commiserated with me and said it was hell, but that I would be getting a pleasant surprise when it was over."
Marilyn arrived in London with new hubby Arthur Miller, as well as Lee and Paula Strasberg –
to Larry's dismay. Marilyn's devil was aided and abetted by those other two devils.
Here's Larry on Lee: "My opinion of his school is that it did more harm than good to his students and that his influence on the American theater was harmfully misplaced."
Seven years later Lee would cross the Atlantic with Studio actors to assay Chekhov's Three Sisters on the West End in one of his very few stints as a director. He got his comeuppance for whatever transgressions he had committed. The production was described as the turkey of all turkeys and the bomb of all bombs in the British press.
And here's Larry on Paula: "The truth came to light with uncanny speed: Paula knew nothing, she was no actress, no director, no teacher, no, adviser – except in Marilyn's eyes, for she had one talent: she could butter Marilyn up. On one car journey I heard Paula play an innings in this, her special ploy, which pinned my ears back as I sat in the front with the two of them in the back. 'My dear, you really must recognize your own potential, you haven't even yet any idea of the importance of your position in the world, you are the greatest sex symbol in human memory, everybody knows and recognizes that and you should too, it's a duty which you owe to yourself and to the world, it's ungrateful not to accept it. You are the greatest woman of your time, the greatest human being of your time; of any time, you name it; you can't think of anybody, I mean – no, not even Jesus – except you're more popular.' Incredible as that must s exaggeration; and it went on in unremitting supply, for good hour, with Marilyn swallowing every word. This was Paula's unique gift to the art of acting, or rather the artful success of Marilyn's career, out of which the Strasbergs stood to make much capital. This was what I realized in growing alarm, I was stuck with."
And it can be said that the Prince as actor and director suffered as no one in film and show business had ever suffered before and after the filming of "Prince." Time and again he was insulted and humiliated.
Vivien had played the role on the stage, but in the film, she had to give way to Marilyn. Of course she didn't relish being passed over. She had caused a stir as Blanche in Streetcar, and now unfortunately she started to live that role to the hilt.
So poor Larry was getting his ankles snapped at from all sides. He had them snapped at on the set, and there was snapping galore after he dragged himself home by Vivian, who had been left out of things.
But ankles were not the only part of Larry's anatomy that suffered. His nether region was getting the brunt of it too. That's the area of the greatest ache when the fair sex has in for men.
After the royal Prince torture was over, Larry limped off the set and went on to other things.
A quarter of a century later, he saw the film again and here's what he had to say: "I was as good as can be, and Marilyn! Marilyn was quite wonderful, the best of all."
So a good film and good performances had come from all the suffering, and Larry the gentleman had given Marilyn her due.
There wasn't much noblesse oblige in Arthur Miller's After the Fall. The Marilyn character has no saving graces in the play, and not an iota of charm. Never had there been a heroine on the stage who was less of a heroine.
But Larry was not so noble with Vivien. Here's what he wrote after her passing: "While I was keeping my short vigil in the bedroom, I noticed that between the bed and the bathroom was a stain, and connecting this with the expression on her face which had caused me to wonder, I now realized what must have happened. What a cruel stroke of fate to deliver that particular little death-blow to one as scrupulously dainty in such matters as was she."
Quotations from Laurence Olivier: Confessions of an Actor, Weidenfeld & Nicolson, London, 1982.
Whatever Happened to Saul Bellow?
Saul had a great career with successful novels, and he reached the top with the Nobel Prize.
Saul was politically your typical Jewish liberal. That sounds disdainful, but I don't say it with disdain since the description fits me to a T, politically, that is.
Late in life Saul paired up politically with Lynne Cheney. Lynne not only happens to be the spouse of Dick Cheney, and who happens to be one of my favorite people, along with Henry "the Kiss of Death" Kissinger. Lynne not only mirrors her spouse's s views, she's even politically to the right of him.
With Lynne, Saul founded the American Council of Trustees and Alumni. One of the activities of that organization, as you can well imagine, was to keep an eye on errant university professors.
Saul lived to see Dick and George lie us into the Iraq disaster.
I insert a couple of items concerning Dick:
"When Vice President Nelson Rockefeller, supported by (President) Ford,
pushed a plan to have government help develop alternative sources of energy
and reduce our dependence on oil and Saudi Arabia, guess who helped scotch it?
Dick Cheney. Then and now, the man is a menace."[1]
White House Joins Fight Against Electric Cars:
The Bush administration went to court today
to support the automobile industry's effort to eliminate requirements
in California that auto manufacturers sell electric cars. [2]
I'll wager that Lynne did not contradict Dick on these matters.
Question: who was the guru in this relationship? Saul or Lynne?
Here's Saul in the New Yorker of March 7, 1988,
"Who is the Tolstoy of the Zulus? The Proust of the Papuans? I'd be glad to read him."
What kind of nonsense is this?
Those are the asinine things you're bound to say when you hang out with the likes of Lynne and Dick.
Pray, Saul! Where did one of the major the influence of our great Picasso stem from? And what about the music Duke Ellington termed "American folk music?"
While Saul was at it, he could have kissed Henry Kissinger's kiester!
– Herbert Kuhner
[1] Maureen Dowd: "Cheney axes that '70s show," The Int. Herald Tribune, Dec. 29, 2005, p. 6.
[2] Katharine Q. Seelye, New York Times, Oct. 10, 2002.