Dem goldenen Jahrestag des Anschlusses & Dreissig Jahre danach
Brief an Dr. Manfred Weylan: "Die magistratsunabhängige Jury (der Kulturabteilung der Stadt Wien) hat sich einstimmig gegen dieses Buch ausgesprochen … Ich fühle mich an das Urteil dieser Jury gebunden."
– Dr. Ursula Pasterk, Stadträtin für Kultur der Stadt Wien im sogenannten "Gedenkjahr" 1988
Eine Einstimmige Jury
"Die magistratsunabhängige Jury (der Kulturabteilung der Stadt Wien) hat sich einstimmig gegen dieses Buch ausgesprochen … Ich fühle mich an das Urteil dieser Jury gebunden.
– Dr. Ursula Pasterk, Stadträtin für Kultur der Stadt Wien im sogenannten "Gedenkjahr" 1988
(Die Jury: Otto Breicha, Elfriede Mayröcker, Julian Schutting, Reinhard Urbach)
Kommentar
"Ich möchte  nur eines sagen: in keiner  einzigen Jury der ich angehört habe, ist  gegen eine Arbeit abgestimmt worden, auch wenn Dr. Pasterk das behauptet: die Juroren waren einzig bestrebt, sich auf  die vorgesehene Anzahlan zu fördernden Büchern /Projekten zu einigen. Eine Jury, in der gegen vorliegende Arbeiten abgestimmt hätte werden sollen, hätte ich sofort verlassen auch aus Erinnerung  an Bücher-Verbrennungen."
– Julian Schutting, 27. Juli 2013
 
Weitere Kommentare
Herbert Kuhner ist unwesentlich als Autor und wird bei uns nie lesen.
– Dr. Reinhard Urbach, Österreichische Gesellschaft für Literatur
Bevor Museumsdirektor Otto Breicha im Dezember 2003 verstarb, erklärte er, daß organisierte Kindesmissbrauch auch in Künstlerkreisen ausgeübt wird, und er fügte hinzu, daß es gefährlich sein könnte, Informationen darüber weiterzugeben.
Rückkehr
"Rückkehr an den Tatort … In seinen Memoiren zieht er Bilanz …  über seine Erlebnisse als Literat nach der Rückkehr ins "neue Österreich". Und er beschreibt sie als Kette von unglaublichen Intrigen,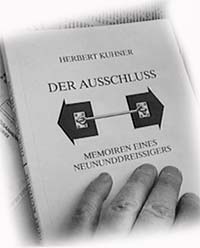 Niederträchtigkeiten, Boshaftigkeiten und Verleumdungen … "Der Ausschluß" bringt Geschehnisse in der österreichischen Literaturszene ans Tageslicht, die nicht totgeschwiegen werden dürfen. Auch wenn sich eine magistratsunabhängige Jury der Kulturabteilung Wien einstimmig gegen dieses Buch ausgesprochen hat."
– Karin Bauer, Der Standard
"Der Ausschluß von Herbert Kuhner ist in meinen Augen eine Liebes-geschichte, die Geschichte einer unglücklichen Liebe. Der Autor wurde in Wien geboren, ist als kleines Kind in der Nazi-Zeit aus Wien ge- flüchtet, in Amerika aufgewachsen und nach Wien zurückgekehrt mit der Illusion,  daß er nun mit offenen Armen in seiner wirklichen Heimat aufgenommen wird. Aber er wurde enttäuscht wie alle unglücklich Liebenden. Er erweckt die Erleb- nisse eines, der heimkehre wollte, mit krassen Farben zum Leben. Seine Auseinandersetzungen mit der Bürokratie wären geradezu komisch, wenn sie nicht auch traurig wären. Ich wünschte, er würde diese Kraft nun in die Zukunft richten und endlich akzeptieren, daß seine Liebe zu Österreich und dessen Hauptstadt Wien eben eine unglückliche ist."
– Stella K. Hershan, austro-Amerikanische Autorin
"Hätte mich das Buch literarisch überzeugt, so hätte ich nicht weiter nach den Details des Inhalts gefragt. So aber komme ich natürlich zur Frage, ob es sich hier nicht um eine höchst persönliche Angelegenheit handelt, deren Darstellung allzusehr in erratischen Blöcken vorliegt."
– Dr. Peter Huemer, ORF, 1988, betreffend ein Rundfunk-Interview im "Gedenkjahr" von "Anschluß" und "Reichskristallnacht", dem goldenen Jahrestag des Anschlusses.
Ja, es ist die Verpackung – nicht die Inhalte, inklusiv das Verhör im Aussenamt, Drohung mit dem Amtsartzt und eine allgemeine politische Hetzjagd. Das alles werden wir ignorieren.!
Komplikationen
"Der Pensionswerber (Herberrt Kuhner) ist nicht genügend als "Schriftsteller" qualifiziert und seine Publikatioinsliste würde nicht einma eine DinA4 Seite füllen."
– Direktor Mag. Popp bei der Vorstandssitzung der LVG am 19. 6. 1995
"Die Liste von österreichischen Lyrikern, die Herbert Kuhner ins Englische übersetzt hat, liest sich wie der Who's Who der modernen österreichischen Dichtung."
– Harry Zohn, German Dept., Brandeis University, Modern Austrian Literature
Als es "Komplikationen" in Bezug auf eine Schriftsteller-Altersversorgung gab (die Grüne Abgeordnete Terezija Stoisits: "Die Fronten sind verhärtet."), sprachen Konstantin Kaiser und Stephan Eibel mit der Grünen-Politikerin Friedrun Huemer. Sie sagte ihnen, daß sie sich nicht weiter dafür einsetzen sollen.
Grund: "Er ist gegen Artmann."
(H. C. Artmann ist in Austrian Poetry Today/Österreichische Lyrik heute und anderswo in meiner Übersetzung erschienen.)
Ich habe mich nie uber Artmann Stellung bezogen. Übrigens, man darf für oder gegen einen Künstler sein.
Betreffend Eibel: "Du bist nicht in seiner Anthologie." Austrian Poetry Today/Österreichische Lyrik heute, Schocken Books, 1985.
Ich habe Eibels Arbeiten damals nicht gekannt. Eine Auswahl von Eibels Prosa und Lyrik ist unter dem Titel Eine lebenswichtige Frage/A Question Essential to Life ist 2017 im PROverbis Verlag veröffentlicht worden.
Blockiert von einer "richtigen" Präsidentin…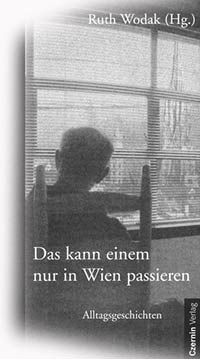 Eine Erzählung von mir, Princeton nostalgisch, ist im Das kann einem nur in Wien passieren, Alltagsgeschichten, Ruth Wodak, Czernin Verlag, 2001.
Klappentext: Diese "Alltagsgeschichten" sammeln Eindrücke, Erlebnisse, Geschichten, die viele Menschen in Wien erlebt haben oder auch erleben könnten. Allerdings nicht irgendwer, sondern Juden und Jüdinnen aus drei Generationen.
Princeton nostalgisch aus Das kann einem nur in Wien passieren, Ruth Wodak, Hrsg., Czernin Verlag, Wien, 2002 und Zwischenwelt 3/2001, Übersetzung: Bruni Blum. Nostalgia for Princeton, published in The Sons of Camus International Journal, London, Autumn, Issue, No. 4, 2006. Literary Short Fiction Writer Award from The Sons of Camus Writers International Journal for Achievement, presented by editor Ann F. Davidson to Herbert Kuhner on 30 October 2007.
Nach der Veröffentlichung von Das kann einem nur in Wien passieren organisierte Gabriel Lansky, Rechtsberaterin der SPÖ und der Jüdischen Gemeinde und "Menschenrechts-Aktivist" ein Treffen in der Wohnung der Herausgeberin, um zu erklären, daß ich nicht in dieses Buch gehöre. Lansky wurde dabei von Rubina Möhring, der Präsidentin der Reporter ohne Grenzen, unterstützt.
* * * *
Unanimity at Golden Anniversary of the Annexation of Austria & at the Eightieth Anniversary of that Event
It's Unanimous!
"The jury, which is independent of the Municipal Cultural Department,  has unanimously cast its vote against this book (Der Ausschluss/Memoirs of a 39er)
I feel that I must adhere to that decision."  (Jury members: Reinhard Urbach, Otto Breicha, Friederike Mayröcker, Julian Schutting )
– Dr. Ursula Pasterk, the Municipal Cultural Coordinator of the City of Vienna, Letter to Dr. Manfred Welan, scholar specializing in law
"I just want to say one thing: in no jury in which I participated, did the jurors vote against any work as Dr. Pasterk claimed:  the jurors only voted on selecting books/projects for subsiding. I would immediately have departed from a jury that was asked  to vote against literary works, in remembrance of book bonfires."
– Julian Schutting, July 27, 2013
"Herbert Kuhner is insignificant as an author and he will never read on our premises." (1)
– Dr. Reinhard Urbach, Austrian Literary Society
Shortly before his death in December of 2003, Museum Director Otto Breicha confirmed that pedophilia is practiced in artistic circles. He added that these groups had international connections. He advised a colleague who had information that divulging it could have dire consequences.
After Returning to the Scene of the Crime: Herbert Kuhner was forced to leave Austria in 1939. In his Memoirs Kuhner presents the balance sheet.  Kuhner's book deals with his experiences after returning to the "new Austria."In it he describes the incredible chain of intrigue, baseness and calumny that he has encountered. The aspects of Austria life that the author brings to the fore in his Memoirs, which have been unanimously rejected by the "independent" jury of the Municipal Cultural Department of the City of Vienna, must not be hushed up.
– Karin Bauer, Der Standard, Vienna
"This is a chronicle of an Austrian emigré, who as a child had to flee from the Nazis to the United States and who as a young man returned to the scene of the crime and discovered that the moral substance of the Austrian character has basically remained  unchanged since 1945.Against the background of exemplary political, cultural-political and artistic emanations of an intolerant provincialism, which is a frightening way, of ever more bluntly anti-Semitic resentments, which we believed to have been overcome, the author creates a kaleidoscope of his personal life experiences in Austria, which were so bitter, depressing, humiliating and indeed frightening, that he finally comes to the dreadful conclusion: 'When I returned to my birthplace to live, it was if I had never left'"
– David Axmann, Der Ausschluß/ Memoirs Afterword
"Memoirs of a 39er is the story of an unrequited love. The experiences of the author who was born in Vienna, had to flee the Nazis in early years, grew up in America and returned to Vienna with the illusion that he would be welcomed with open arms in his birthplace. But for those who love without being loved in return, a rude awakening in inevitable. Kuhner brings the experiences of his remigration to life in bright colors. His conflict with Austrian bureaucracy would be comical were it not tragic. I hope that he will find another location for his talents and finally accept the fact that his love for Austria and its capital Vienna can be nothing but unrequited."
– Stella Hershan, Austro-American author, New York
"If I were convinced about the literary quality of the book (Der Ausschluss /Memoirs of a 39er),I would not have asked for details concerning its contents. I have come to the conclusion that it deals with a very personal situation, which is presented in erratic segments."
– Dr. Peter Huemer, ORF (Austrian Radio) concerning an interview
Yes indeed,, the interrogation at the foreign ministryis a " very personal situation."
Sure, it's the packaging that makes it invalid – not the contents,  which include an interrogation in the Foreign Ministry,the threat of incarceration  and a panoply of "official" harassment.
No Pension for the Upstart
When there were "complications" concerning a writer's pension, Green Parliamentarian Terezija Stoisits' reaction: "The front cannot be broken through!"
Here's part of the front: Franz-Leo Popp, head of the Commission Pensions for Writers: "Herbert Kuhner does not qualify for a writers' prison. The list of his publications would not even cover one page."
"The list of Austrian poets that Herbert Kuhner has rendered reads like Who's Who in Austrian Poetry.
– Harry Zohn, Modern Austrian Poetry Journal, Riverside, CA
Konstantin Kaiser and Stephan Eibel, writer colleagues, spoke to Green politician Friedrun Huemer, who told them to desist.
Reason to Kaiser: "He is against Artmann." (H.C. Artmann is represented in Austrian Poetry Today and elsewhere in my translation. I would think that one would be able to discuss aspects of any author.
Reason to Eibel: "You are not in Austrian Poetry Today." (I met Eibel after the publication of the aforementioned anthology.
Eine lebenswichtige Frage/A Question Essential to Life by Stephan Eibel, a bilingual edition of poetry and prose in my translation has been published by PROverbis Verlag in 2017.
A Genuine President Comes into Play
Thanks to Kuno Knöbl I am represented in Das kann einem nur in Wien passieren: Alltagsgeschichten/ Only in Vienna: Stories of Everyday Events, edited by Ruth Wodak/
Only in Vienna: Stories of Everyday Events by Austrian Jews. This is from the cover blurb: "These 'stories of everyday occurrences' comprise a collection of impressions, experiences and stories that many who live in Vienna have or could have encountered. However, not just anyone, but Jews of three generations."
After publication, Dr. Gabriel Lansky, the Legal Counsel to the Socialist Party and the Jewish Community and "human Rights activist," organized a meeting in the editor's apartment for the purpose of asserting that I should not have been included in the book. Lansky was seconded by Rubina Möhring, Austrian President of Reporters Without Borders. (2)
Kuno Knöbl:"Gaby Lansky is financial advisor to Reporters Without Borders. " (3)
(Messages to Reporters Without Borders in New York have gone responded. No answer is indeed an answer.)
Kuno Comments: "In my view there is a Biedermeier-like silence concerning this topic.
It is good that you have broken through it." (4)
1. Source: Leo Mazakarini, 1973.
2. Source: Kuno Knöbl, former head of ORF (Austrian-TV) Entertainment.
3. Kuno Knöbl, letter to Herbert Kuhner, June 20, 2005.
4. Kuno Knöbl. March 3, 2004, Düsenberg; En Route Herbert Kuhner, Film by Fritz Kleibel, 2014.